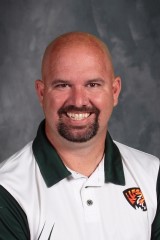 I would like to welcome you to Tri-Township Schools! My name is Brian McMahan, and I am the PK-12 Principal. I have been a Tiger all of my life as a student, teacher, and now principal. My wife, Christina and I have three children: Bentley 7, Cora 5, and Bryson 1. Our kids go to our great school. They have had many wonderful experiences over the past couple years. My goal is to give all students that attend Tri-Township Schools a wonderful experience of learning and growing every single day.
As we start a new chapter of the Tri-Township Consolidated School Corporation, we will continue to provide a family like atmosphere that we had at LaCrosse High School and Wanatah Public School. The vision moving forward is to provide the best environment for learning for each and every student. We will do this by working together--adminstrators, teachers, students, parents, and community members. All of us need to be invested in the future of our students in the classroom and in extracurriculars. We will represent our community to the best of our ability every single day. I want our school to blossom into the community hub of activities. Please join me on making this a reality.
If you have questions or concerns, please feel free to contact me. Lets work together to make a bright future for all students that attend Tri-Township Schools.